3/4inch G209 US Type Screw Pin Bow Shackles
Product Detail
Product Tags
Product Details
1. Product Introduction of the 3/4" G209 US Type Screw Pin Bow Shackles
DETAILS

G209 US Type Screw Pin Bow Shackles

Size: 3/16" to 2 1/2"

Working Load Limited: 1/3T to 55T

Material: carton steel(45# steel for body, 40Cr for pin)

Surface: Galvanized,Hot Dip Galvanized, Painted, Mechanical galvanized, Daromet and others

Forged and heat treated

Safety factor: 1:4 or 1:6




Suitable for usage with lifting
Size
(in)

WLL
(t)

Dimensions(in)

Weight
(lbs)

A

B

C

D

E

F

G

H

L

M

P

G-209
S-209

G-213
S-213

3/16

1/3

0.38

0.25

0.88

0.19

0.6

0.56

0.98

1.47

0.16

1.14

0.19

0.05

—

1/4

1/2

0.47

0.31

1.13

0.25

0.78

0.61

1.28

1.84

0.19

1.43

0.25

0.12

0.13

5/16

3/4

0.53

0.38

1.22

0.31

0.84

0.75

1.47

2.09

0.22

1.71

0.31

0.19

0.17

3/8

1

0.66

0.44

1.44

0.38

1.03

0.91

1.78

2.49

0.25

2.02

0.38

0.31

0.25

7/16

1 1/2

0.75

0.5

1.69

0.44

1.16

1.06

2.03

2.91

0.31

2.37

0.44

0.38

0.38

1/2

2

0.81

0.63

1.88

0.5

1.31

1.19

2.31

3.28

0.38

2.69

0.5

0.63

0.7

5/8

3 1/4

1.06

0.75

2.38

0.63

1.69

1.5

2.94

4.19

0.44

3.34

0.69

1.38

1.5

3/4

4 3/4

1.25

0.88

2.81

0.75

2

1.81

3.5

4.97

0.5

3.97

0.81

2.25

2.32

7/8

6 1/2

1.44

1

3.31

0.88

2.28

2.09

4.03

5.83

0.5

4.5

0.97

3.38

3.4

1

8 1/2

1.69

1.13

3.75

1

2.69

2.38

4.69

6.56

0.56

5.13

1.06

5.32

5

1 1/8

9 1/2

1.81

1.25

4.25

1.16

2.91

2.69

5.16

7.47

0.63

5.71

1.25

6.81

6.97

1 1/4

12

2.03

1.38

4.69

1.29

3.25

3

5.75

8.25

0.69

6.25

1.38

9.5

9.75

1 3/8

13 1/2

2.25

1.5

5.25

1.42

3.63

3.31

6.38

9.16

0.75

6.83

1.5

13.25

13.23

1 1/2

17

2.38

1.63

5.75

1.54

3.88

3.63

6.88

10

0.81

7.33

1.62

17.2

17.25

1 3/4

25

2.88

2

7

1.84

5

4.19

8.86

12.34

1

9.06

2.25

30.38

29.46

2

35

3.25

2.25

7.75

2.08

5.75

4.81

9.97

13.68

1.22

10.35

2.4

45

45.75

2 1/2

55

4.13

2.75

10.5

2.71

7.25

5.69

12.87

17.84

1.38

13

3.13

85.75

—
2. Product Specification of the G209 US Type Screw Pin Bow Shackles

Item: G209 US Type Screw Pin Bow Shackles
Type: US Type
Material: body is 45# steel, pin is 40Cr
Size: from 3/16" to 2 1/2"
Working Load Limited: 1/3T to 55T, the bigger size 85T and 120T also can bu supplied
Surface: Galvanized,Hot Dip Galvanized, Painted, Mechanical galvanized, Daromet and others
MOQ: 1000 pieces
Production Capacity: 3 Containers per month
High quality, Competitive price and good service. Customers' special need is welcomed
3. Package and shipping of the G209 US Type Screw Pin Bow Shackles
Packing: Gunny bag or carton case and pallet or other customized, or according to customers' requirement
Shipping: by ship or by air
Payment Terms: 30% payment in advance or LC
Delivery time: one container for one month
Load port: Qingdao port or other china ports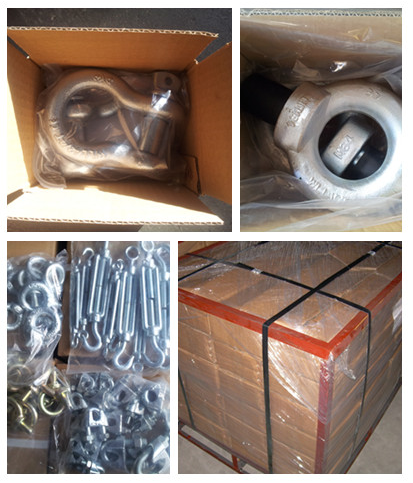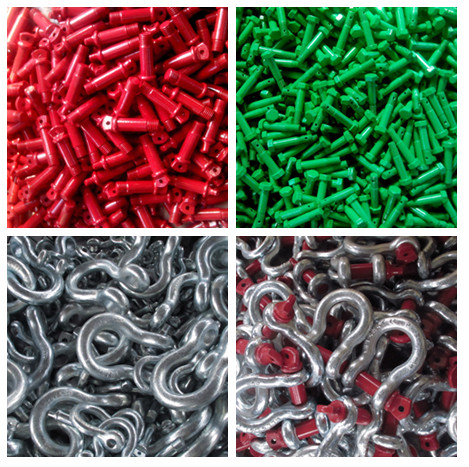 4. Company Introduction
Qingdao Rui De Tai Metal Products Co. Ltd is an enterprise that mainly manufacture rigging products. We are specializing in various rigging, such as shackles, turnbuckles, Load binders, hooks, eye bolts and nuts, wire rope clips, thimbles, anchors, snap hooks, anchor chain, clamps and stainless steel rigging. Meanwhile, we could take up processing business according to the drawings, samples and materials supplied by customers.
Workshop (Punching Machine and Friction Type Forging Machine)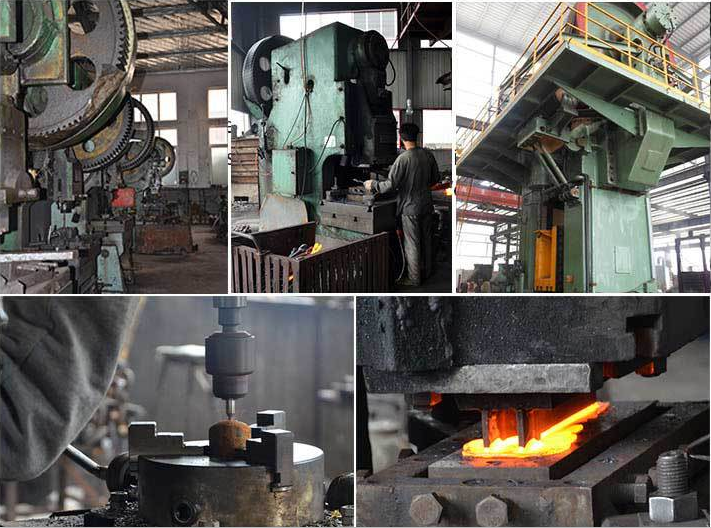 Test before shipment(Test material, surface and working load limited)
Welcome to buy and wholesale our hot selling 3/4inch g209 us type screw pin bow shackles. We're one of the most professional and leading rigging products manufacturers and suppliers. Please be free to get the free sample from us and contact our factory for more info.