5/16 and 25mm BS464 Wire Rope Thimble
Product Detail
Product Tags
Product Details
1. Product Introduction of the 5/16 And 25mm BS464 Wire Rope Thimble
DETAILS

BS464 Wire Rope Thimble

Size: 5/16″to 2 1/2″
Material: carton steel
Surface: Galvanized, Hot dip galvanized(H.D.G.) and others
Technology: Punch process

This products is usage for wire rope
Size Dia

of Rope

Dimensions

A

B

C    min

D

E

F    min

G

K    min

Q

in

mm

in

mm

in

mm

in

mm

in

mm

in

mm

in

mm

in

mm

in

mm

in

mm

5/16

8

7/8

22.2

1 1/2

38

1/2

12.7

1 5/16

33.4

2 1/8

52

5/16

7.9

5/32

4

5/32

4

13/16

30.1

3/8

9

1

25.4

1 7/8

47.6

9/16

14.3

1 1/2

38

2 1/2

64

13/32

10.3

1/4

6.3

3/16

4.8

1    3/8

35

7/16

11

1 1/8

28.6

2  1/8

52

11/16

17.5

1 5/8

41.3

2 7/8

73

1/2

12.7

5/16

7.9

3/16

4.8

1    1/2

38

1/2

13

1 1/4

31.7

2 5/16

58.8

13/16

20.6

1 3/4

44.5

3 1/8

79.4

9/16

14.3

5/16

7.9

7/32

5.5

1    1/16

42.9

9/16

14

1 1/4

31.7

2 5/16

58.8

13/16

20.6

1 3/4

44.5

3 1/8

79.4

9/16

14.3

5/16

7.9

7/32

5.5

1    1/16

42.9

5/8

16

1 5/8

41.3

2 15/16

74.5

7/8

22.2

2 5/16

58.8

3 7/8

95.8

5/8

15.9

1    1/32

8.7

5/16

7.9

2    1/4

56

1 1/16

17

1 3/4

44.5

3  1/8

79.4

1 1/8

28.6

2 5/8

66.6

4 1/4

108

3/4

19

3/8

9.5

5/16

7.9

2 3/8

60.4

3/4

19

2

50.8

3  5/8

92

1 1/8

28.6

2 7/8

73

4 7/8

124

13/16

20.6

7/16

11.1

3/8

9.5

2    3/4

69.8

1 3/16

21

2

50.8

3  5/8

92

1 1/8

28.6

2 7/8

73

4 7/8

121

13/16

20.6

7/16

11.1

3/8

9.5

2    3/4

69.8

7/8

22

2 1/4

56

4

102

1 1/4

31.7

3 1/4

82.5

5 1/4

133

7/8

22.2

1/2

12.7

3/8

9.5

3

76.2

1    5/16

24

2 1/2

64

4 5/16

110

1 5/16

33.4

3 5/8

92

5 3/4

146

1

25.4

1/2

12.7

1    3/32

10.3

3    5/16

84

1

25

2 3/4

69.8

4    11/16

119

1    3/8

35

4 1/4

108

6    3/8

162

1    1/16

27

9/16

14.3

1    3/32

10.3

3    9/16

90.5

1 1/8

29

3

76.2

5    1/4

133

1    1/8

38

4 3/8

112

7

178

1    1/8

28.6

5/8

15.9

1/2

12.7

4

102

1 1/4

32

3 3/4

95

6

152

1 5/8

41.3

5 1/4

133

7 3/4

197

1    5/16

33.4

5/8

15.9

1/2

12.7

4    3/4

121

1 3/8

35

4 1/8

105

6 7/8

175

1 7/8

47.6

6

152

9

228

1    1/2

38

3/4

19

5/8

15.9

5    3/8

137

1 1/2

38

4 1/2

114

7  3/4

197

2 1/8

52

6 1/2

165

10

254

1 5/8

41.3

15/16

23.8

1    1/16

17.5

5    7/8

149

1 5/8

41

4 1/2

114

7  3/4

197

2    3/16

55.6

6 1/2

165

10

254

1    11/16

42.9

15/16

23.8

1    1/16

17.5

5    7/8

149

1 3/4

44

5

127

9

228

2 1/4

57.1

7

178

11   1/4

286

2

50.8

1

25.4

1

25.4

7

178

1    7/8

48

5    1/4

133

9    3/4

248

2    5/8

66.6

7    1/2

190

12    1/4

317

2    3/8

60.4

1    1/8

28.6

1

25.4

7    1/2

190

2

51

5    1/2

140

10    1/8

257

2    3/4

69.8

8

203

13

330

2    1/2

63.5

1  3/16

30.1

1    1/8

28.6

7    3/4

197

2    1/8

54

5    1/2

140

10    1/8

257

2    3/4

69.8

8

203

13

330

2    1/2

63.5

1  3/16

30.1

1    1/8

28.6

7    3/4

197

2    1/4

57

5    3/4

146

10    5/8

296

3

76.2

8    1/2

216

14

356

2    5/8

66.6

1    1/4

31.7

1  3/16

30.1

8    1/8

206

2    1/2

64

6    1/4

159

12    1/4

311

3    3/4

95

9    1/2

242

16    1/4

414

2    3/4

69.8

1    3/4

44.5

1    1/4

31.7

8    3/4

222
2. Product Specification of the BS464 Wire Rope Thimble
Item: BS464 Wire Rope Thimble
Type of BS464 Wire Rope Thimble: BS464
Material of BS464 Wire Rope Thimble: Q235 steel
Size of BS464 Wire Rope Thimble: from 5/16″ to 2 1/2″
Surface for BS464 Wire Rope Thimble: Galvanized, Hot dot galvanized, painted or others
MOQ for BS464 Wire Rope Thimble: 10000 pieces according to the size(big size, MOQ can be little)
Production Capacity of BS464 Wire Rope Thimble: 2 Containers per month
3. Package and shipping of BS464 Wire Rope Thimble
Packing for BS464 Wire Rope Thimble: The standard international seaworthy package or customized.
Shipping for BS464 Wire Rope Thimble: by ship or by air
Payment Terms: 30% advanced by T/T,the balance should be paid after see the copy of the B/L;L/C at sight;Western Union.
Delivery time of BS464 Wire Rope Thimble: one container for one month
Load port: Qingdao port or china port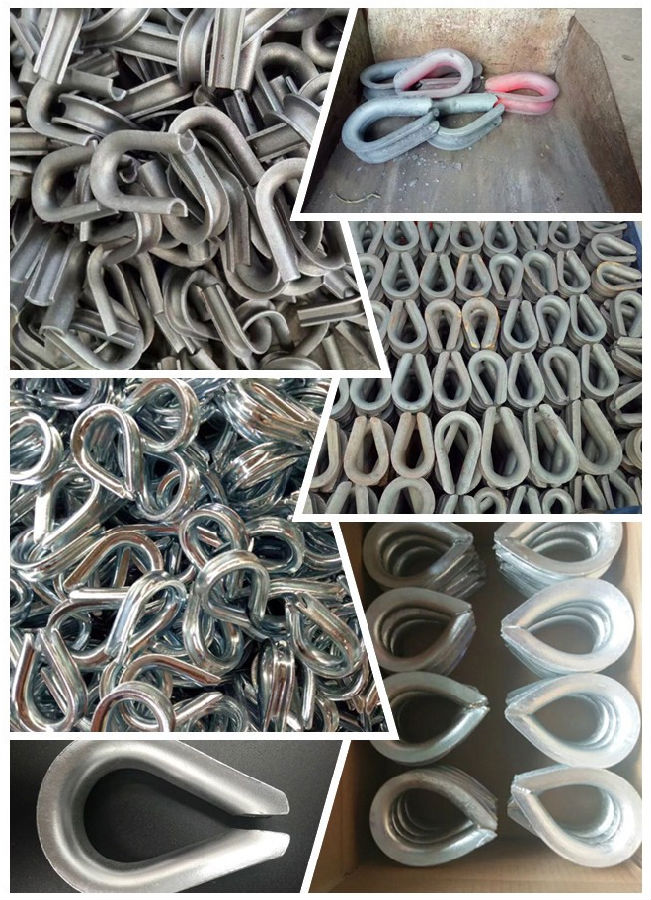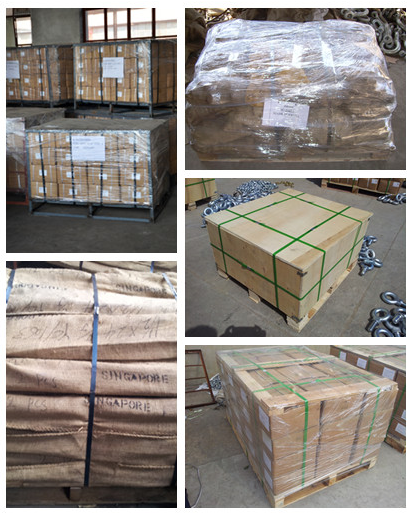 Qingdao Rui De Tai Metal Products Co. Ltd with a history of many years,our company has advanced equipemnt and testing facilities.According to the international standards,it can manufa-cture many types of rigging, such as shackles, turnbuckles, Load binders, hooks, eye bolts and nuts, wire rope clips, thimbles, anchors, snap hooks, anchor chain, clamps and stainless steel rigging. Meanwhile, we could take up processing business according to the drawings, samples and materials supplied by customers.
Workshop of BS464 Wire Rope Thimble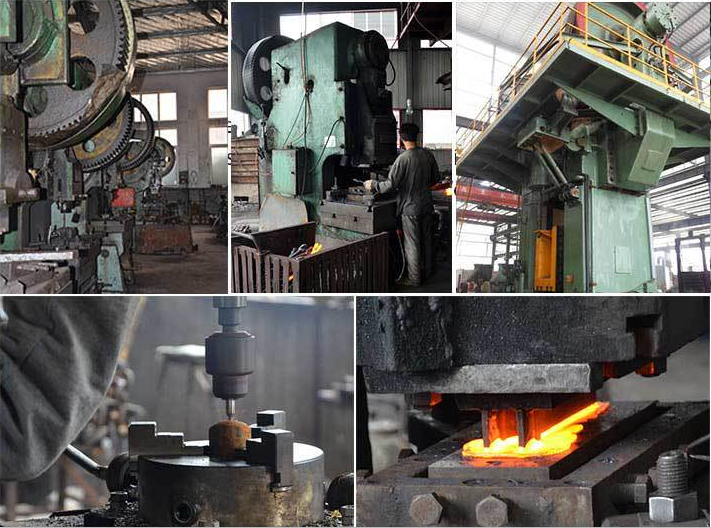 Test before ship BS464 Wire Rope Thimble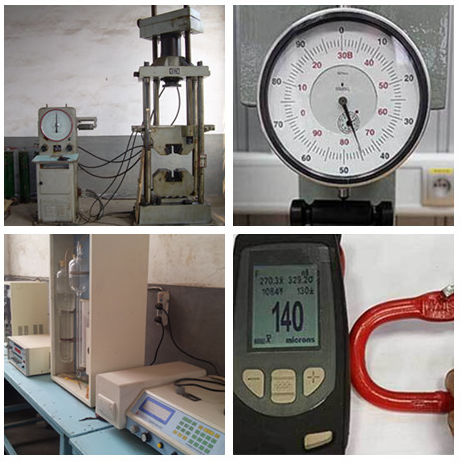 1. Are you a factory or trading company?
We started as an anchor chain factory about 20 years ago and gradually developed into a big manufacturer in marine supplies.
At the same time, to meet the growing demands from our clients in new business areas, we expanded our scope to rigging hardware and fasteners, and other related hardware by setting up solid partnership with other factories.
Now we're proud to say that RUI DE TAI has ranked as a top supplier on chains & rigging hardware in northern China.
2. Where is your factory located?
Our factory is located at Jimo, Qingdao City, Shandong Province, China.
You're welcomed to visit us any time for future cooperation.
3. What products do you supply?
As mentioned above, supplying all kinds of marine supplies, chains, rigging hardware, fasteners, and related hardware.
4. How do you control quality?
By setting up quality control points and inspecting at each production process with strict standards, the defective products will be eliminated before packaging and delivery.
For partner factories, we use a comprehensive system of quality standards to evaluate the production line. Also our professional QC team will implement the onsite check and finish product check before delivery.
5. Why are you more trustworthy than the other factories?
Quick Response:
We feedback your questions immediately 24 hours a day, 7 days every week.
Competitive Price:
We can provide a more competitive price based on the same quality level by more efficient management in every process.
One-stop Solution:
Just say what you need, and we'll figure out a one-stop solution for your business to save your time and effort.
6. How do I pay?
We accept 30% payment in advance & 70% before shipment for the first cooperation, either by T/T or L/C.
7. How do I receive the goods?
With our professional transport agents, we are capable of delivery products to most ports all over the world. Door-to-door service is also supported.  FOB, C&F, CIF are most commonly used trade terms.
If you have another question, pls feel free to contact us as below:
Ann Zhang (Sales manager)
Qingdao Rui De Tai Metal Products Co. Ltd
Tel: 86 0532 88293060
Ph: 86 18661631650
Fax: 86 0532 88293060
E-mail: ann@qdruidetai.com
Web:  www.rdt-rigging.com
Skype: ann.zhang1987
Whats app: 06 18661631650
Welcome to buy and wholesale our hot selling 5/16 and 25mm bs464 wire rope thimble. We're one of the most professional and leading rigging products manufacturers and suppliers. Please be free to get the free sample from us and contact our factory for more info.
---
---